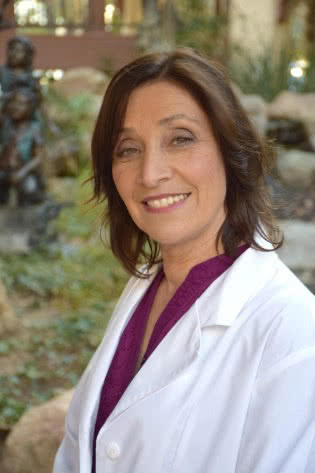 Dr. Laara Van Bryce became a Chiropractor in 1979. She graduated from Logan College of Chiropractic in St. Louis, Mo.
Known for her sincere, innovative, intuitive and holistic approach, she has helped thousands of people change their lives for the better….
With her vast training in physical structure, biochemical analysis, emotional clearing and energetic rebalancing, she approaches her patients from a comprehensive analysis viewpoint, looking at the underlying fundamental root cause of disease. Her intuitive approach is her gift.
In addition to Chiropractic, Dr. Van Bryce is experienced in nutrition, Bio Energetic Synchronization Technique, BioCrainial Technique, muscle testing, functional lab work, emotional clearing and other modalities.
Dr. Laara's own health journey became very challenging after getting in an auto accident in 1988. Her personal journey as a patient through the medical and chiropractic system unveiled the large inadequacies of the traditional healthcare system. With symptoms ranging from chronic pain, a low thyroid condition, Hashimoto's thyroiditis, chronic fatigue, depression and emotional challenges, she felt like a complicated puzzle.
It is her personal desire to assist you in achieving optimal health and avoid becoming one more disease statistic.
Van Bryce Natural Health and Wellness Center
Today our office uses a comprehensive multi-therapeutic approach to health by combining therapies for a much more complete healing experience. Utilizing chiropractic, massage, physical therapy, nutrition, detoxification, emotional clearing, yoga, diet, energy work to name a few, we have a revolutionized approach to health and healing. Our patient-centered Wellness Center thrives on navigating the space between conventional and alternative medicine.
---
FAQ's
No. I do not prescribe or make recommendations about prescription medications or controlled substances. Your prescribing medical doctor will manage all medications. I use natural, noninvasive methods such as nutritional therapy, herbs, supplements, stress management techniques and lifestyle changes to address the underlying causes of disease and promote optimal function and health.
Insurance may cover some testing and services but not all. This program, in general, is considered above the standard of care and therefore elective as far as the insurance industry is concerned. We do everything we can to make sure Functional Medicine is affordable and available to everyone! All of our patients are working class, normal people who want to get healthy.
Yes, I offer long-distance consultation (national and international) via telephone or webcam (Zoom, Skype, Google Chat, WhatsApp) for those who live outside of the California area. I've worked with clients all over North America, Europe, Central and South America, and Australia.
The price depends on several factors, including the complexity of your condition, the extent of lab testing required, the combination of natural medicines and other therapies needed during treatment, and the number of consultations you receive. We do everything we can to make Functional Medicine affordable to the average person. Again, most if not all of our patients are normal, working-class people who want to improve their health.
This depends on several factors, including the complexity of your condition, how long you've had it, how much time, energy and attention you're willing to devote to treatment, and how well you respond to treatment. In general, health programs for chronic illnesses last between six and twelve months, but most patients start seeing improvement within the first month. Patients may elect to continue with a maintenance program after their initial treatment plan is finished.
Alzheimer's is one of the fastest growing diseases in the US and is considered in epidemic proportions. It has been a major concern of people over the age of 60, but it really should be of major concern of anyone over age 40. Here's why…. Every 66 seconds, someone is diagnosed with Alzheimer's in the…
Read More